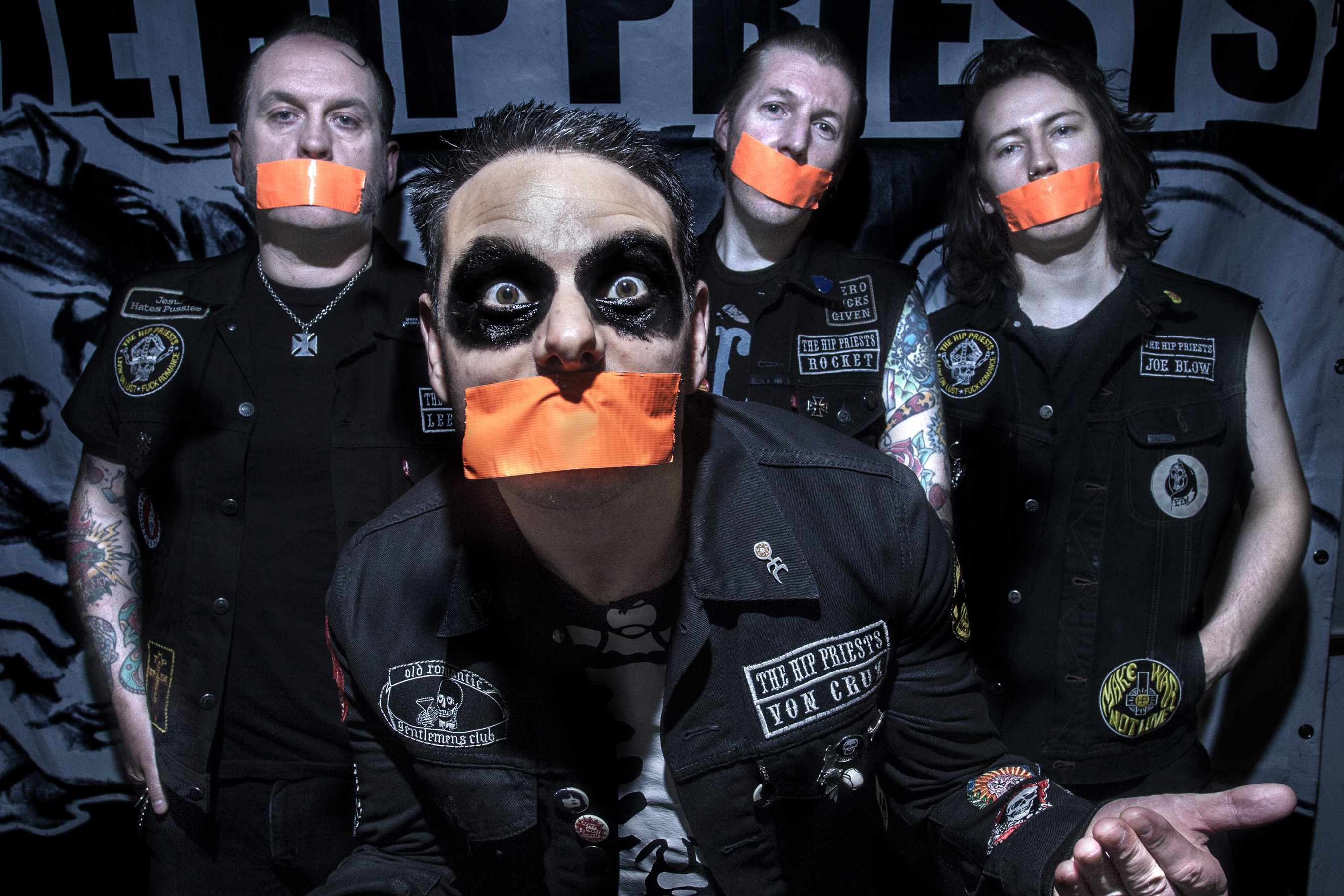 'The inbred white trash sons of Iggy P, Johnny T, Lemmy & Handsome Dick. An awesome mess of rampantly sexual, high action, hot assed, anthemic, sweat sodden Rock 'n' Roll' were the words used to describe the band in an early review and 2016 marked the 10 year anniversary of The Hip Priests! 10 years since four scumbags first began preaching sex, filth, hatred and contempt to anyone who'd listen in venues all around the globe, from London cellar bars to LA strip clubs.
After being snapped up by Sweden's Bootleg Booze Records to release their astounding debut album 'Tight N' Exciting', their extensive releases now total three studio albums, a Japan-only compilation album, two EPs, a live album & to date eighteen 7"s (including split releases with Dwarves, Electric Frankenstein & Bloodlights) released by various independent labels from all over Europe & the USA.
Preaching their sermon of rock 'n' roll excess on numerous tours of the UK & Europe, they've made countless rapturously received festival appearances over the years, including the final Speedfest and due to their reputation as a white hot live band, play to ever increasing audiences.
Rave reviews pour in for each and every release, ranging from 'a band on top of their game & steps ahead of any of their UK contemporaries' to 'if you're in any doubt about how good these bad boys are then you need locking up'. Not content with restricting their live assault to Europe and at the request of hardcore fans stateside, they completed their first US tour in 2014, playing scorching shows to packed bars on East & West coasts - being joined onstage in LA by Nick Oliveri for a riotous set closer.
After ten years most bands would be taking it easier but 2017 has seen no let-up in energy and activity. They kicked the year off with a re-press of their long out of print second album followed by the release of a mammoth 28 track singles compilation on LP/CD in April with another four 7"s to be released before the end of the year. In addition they made a return visit to the US for a West Coast tour with He Who Cannot be Named, as well as trips to Switzerland, Italy, Norway and a triumphant set at this year's Sjock Festival.
The 'Priests are one of the coolest bands this United Kingdom has ever produced. Uberrock Magazine
Listen! https://thehippriests1.bandcamp.com/
Watch! Jesus Died So We Could Ride https://www.youtube.com/watch?v=xytRWQl0SKY
Contact! This email address is being protected from spambots. You need JavaScript enabled to view it. www.facebook.com/thehippriests